Hey Guys,
Just wanted to send a quick reminder on a few things
1) Stickers are ready to mail, just send me your snail mail address.
They are FREE, but it would be awesome if you would put one on
something random, cool, lame or totally inappropriate and take a photo
of it. If you email me the photo, I'll put it up on the myspace
site….. or better yet, take a quick video clip!
2) Big Island Trip is booked and only 5 spots are left! Since we are
only taking a small group and so many people responded with "maybe" I
have decided to fill it on a first come first serve basis. The total
cost is $395 which includes 3 nights hotel and two days of diving
including the world famous Manta Ray Night Dive on our private charter
boat!
That's MARCH 2nd 3rd and 4th…… better act fast!
3) I'm offering a special for the month of February: Nitrox and
Advanced for $400. Get 6 dives, certified to 100 feet and a Nitrox
Specialty which will let you dive even longer! Boat seats are INCLUDED
and the dives can be scheduled around your days (or nights) off!
Not too much else to report…. I'll be updating the calendar on
myspace and putting up a new blog soon.
Let me know if you have any questions or call to book your course,
charter or trip today!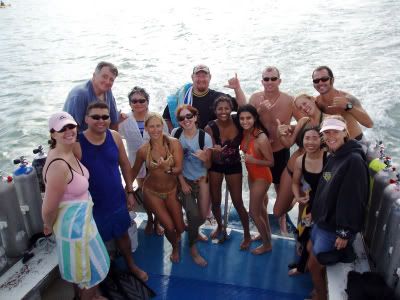 Aloha,
Gabe
Kaimana Divers
myspace.com/kaimanadivers
kaimanadivers.blogspot.com
www.kaimanadivers.com
(808) 772 1795